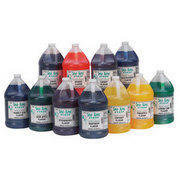 Snow Cone Syrup - 1 Gallon


Please call to reserve this item.


Who doesn't love a snow cone on a hot day? Carnival Kings Flavored Snow Cone Syrup comes ready to use. The snow cone syrup is sweetened with high fructose corn syrup. One (1) Gallon makes 128 (1 oz ) Servings. This is additional servings only and does not come with cones or dispenser. Current choices are grape, cherry, and blue raspberry... Choose flavor at checkout!

Note

: Price listed is Pick-Up Price, unless bundled with an inflatable or for a small delivery fee.